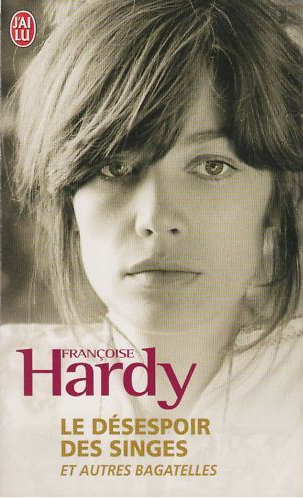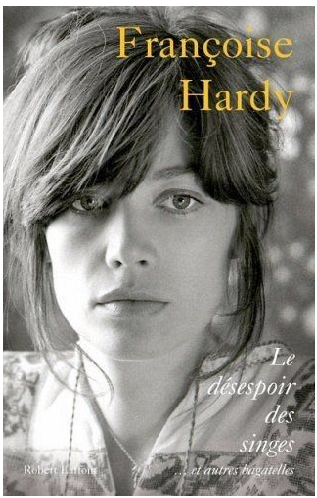 One of the books in the series
"Voici ceux dont on parle".

An autobiography of Françoise Hardy,
at the age of 20 !, received by Claude
Dufresne.

Françoise claims there isn't a single page
written by her. Let's call it a biography.

119 pages, 4 pages of black and white
photos.
(1964) Published by Union Général
d'Éditions.


Written by Étienne Daho and Jérôme Soligny.

128 pages, many great colour and black and
white photos, discography, filmography,
bibliography, words to some of the songs written
by Françoise.

(1986) Published by Jacques Grancher.

Written with Éric Dumont.

125 pages, many colour and black and white
photos, words to more of the songs written by
Françoise.

(1991) Published by Albin Michel.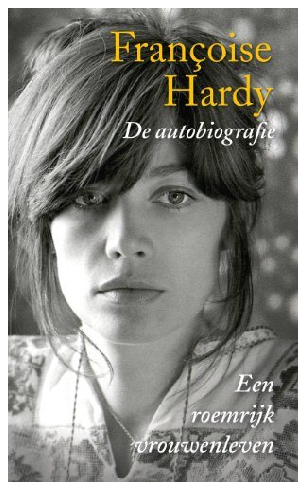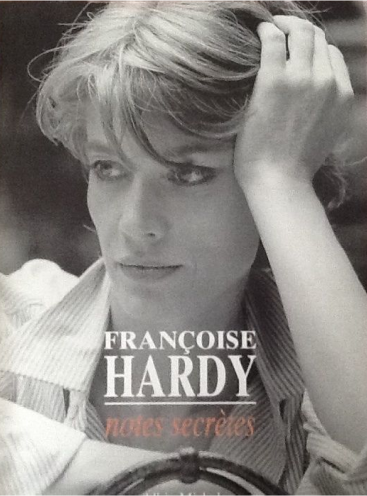 Written by Gilles Verlant.

104 pages, many black and white photos.

(October 2002) Published by Albin Michel.

Unauthorised biography by Yann
Plougastel.
Published by Flammarion : 1/10/2004
348 pages
5 black and white photos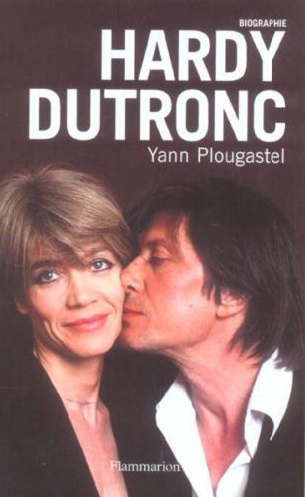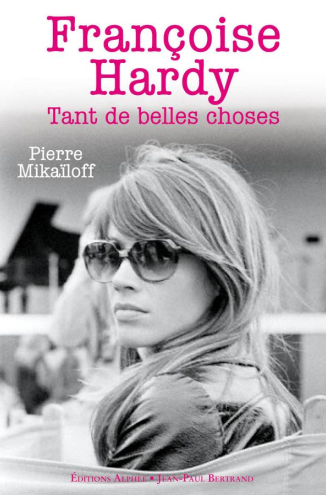 Written by Pierre Mikaïloff. Preface by Bertrand
Burgalat.

363 pages, 2 colour and 13 black and white photos.
( 8 january 2009 ) Published by Alphé/Jean-Paul
Bertrand.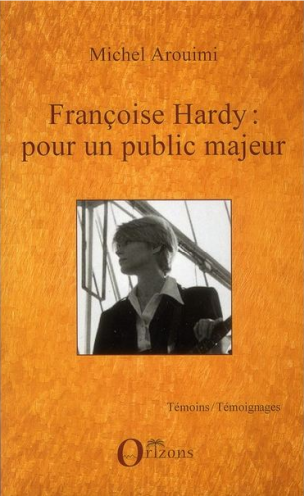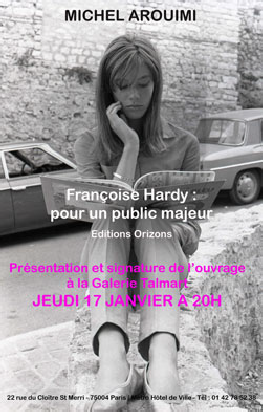 Françoise Hardy : pour un public majeur
This book is an attempt to abolish the gap

between popular culture and the academic

world. Arouimi has explored the songtexts

of Françoise Hardy.
Certainly not my cup of tea.
Written by Michel Arouimi.

219 pages, no photos.
( 26 november 2012 )
Published by Orizons in the
series "Témoins / Témoignages"

Le désespoir des singes
...
et autres bagatelles
Published by Robert Laffont, 9 october 2008

390 pages, 42 photos (mostly black and white).

Also published as paperback in the series
"J'ai lu" 25 may 2009

435 pages

Dutch publication by Nijgh & van Ditmar,
translation by Manik Sarkar, 15 november
2009.

383 pages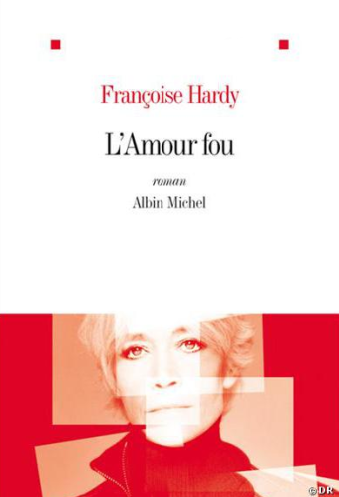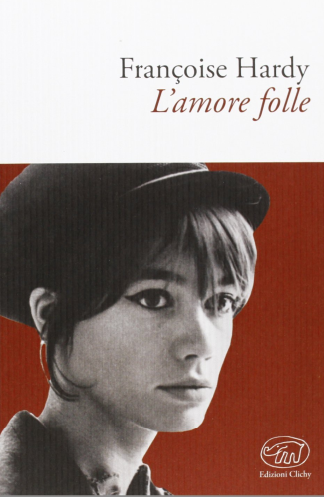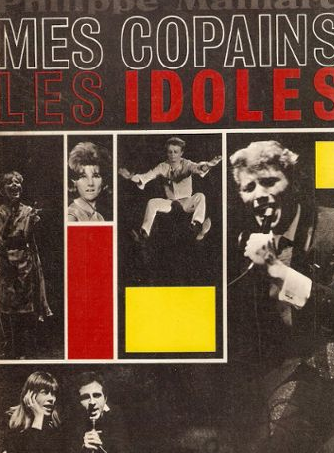 Mes copains les idoles

Written by Philippe Maillard.

Published by R. Solar, january
1964
. 142 p.

Many black and white photos. Testimony

on P.Clark,
Sheila, C. François, J. Halliday,

Françoise Hardy ( 15 pages, 4 bl. & wh.

photos ) and R. Anthony.

Françoise Hardy : Books
( Warren Gilbert revisited )
Published by Albin Michel, 31 october 2012

182 pages.

Italian publication by Edizioni Clichy,

22 May 2013.

Translation by Antonella Conti.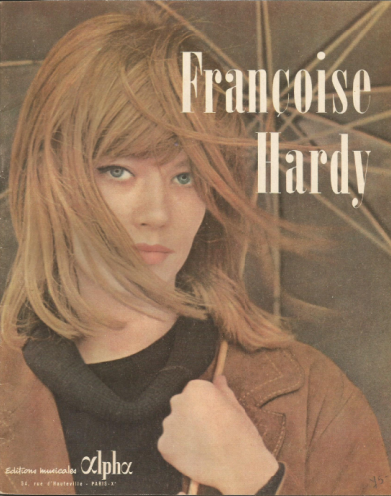 Françoise Hardy

The original Françoise Hardy Songbook.

Paperback, 24 pages, the book contains the words and

music to 10 of the songs from Françoise's first album.

(
1962
) Published by Éditions musicales Alpha.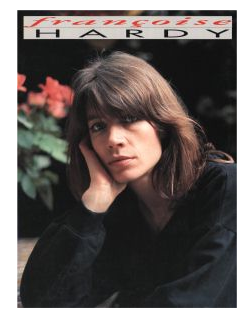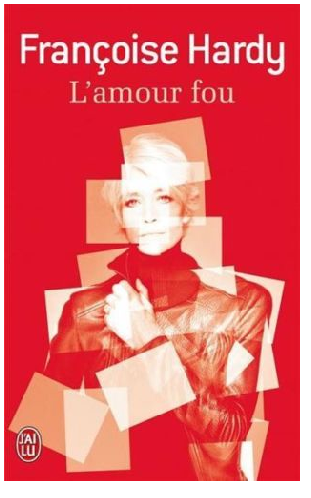 Paperback edition "J'ai lu" May 2014

Françoise Hardy

Paperback, 92 pages, the book

contains the words and music to

35 of the most popular songs

sung by Françoise.

(
1992
) Published by

Musicom Distribution.

Je Chante Françoise Hardy

Paperback, 210mm X 150mm, 52 pages.

This one contains the words and music

to 25 songs sung by Françoise, ranging

from "Tous les garçons et les filles" to

"Un peu d'eau".

(
1997
) Published by Paul BEUSCHER -

Arpège. 49 pages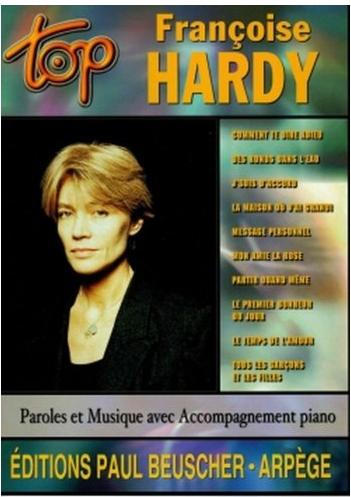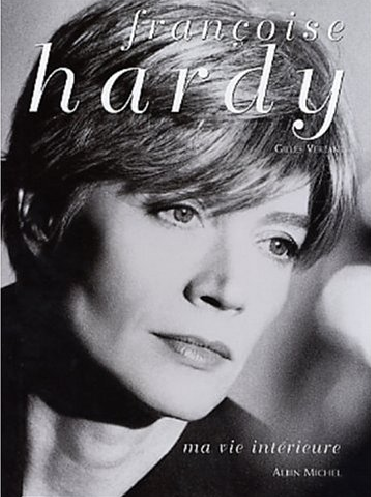 Top Françoise Hardy

A songbook containing 10 songs with words,

guitar chords and piano accompaniment.

( 9 december
1998
)

Published by Paul Beuscher- Arpège.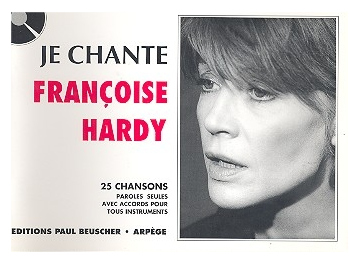 Ses plus belles années
(1972 - 74).

Photos by Catherine Rotulo.

Published by La Martinière , 27 september
2007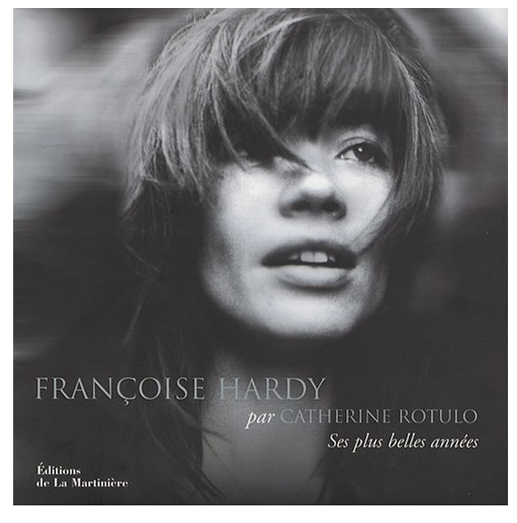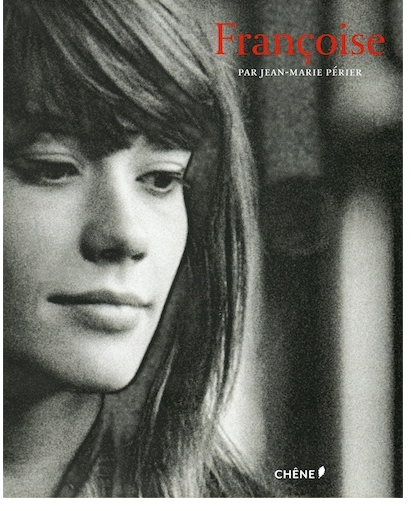 " Françoise "
by Jean-Marie Périer

Published by Chêne, 5 october
2011

240 pages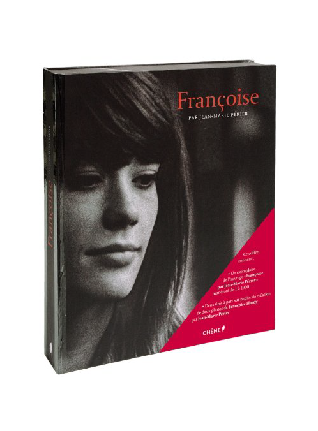 The luxe edition " coffret collector".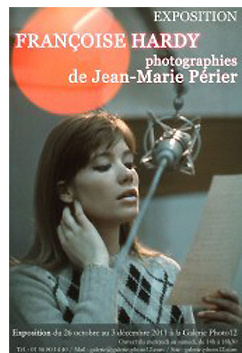 Invitation to the exposition,

Galerie Photo 12

from 26th october to 3rd

december 2011.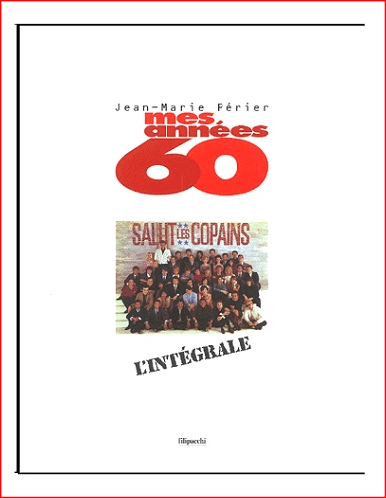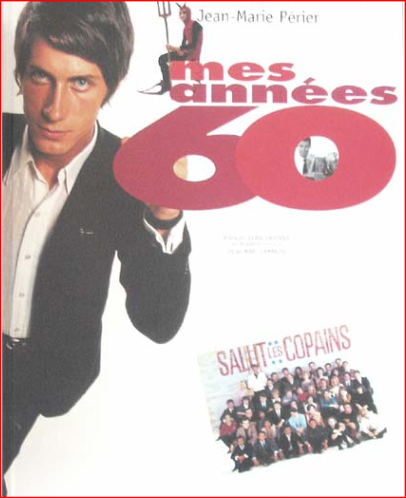 "La photo du siècle", taken by Jean-Marie

Périer, photographer of SLC, is the cover

of the book "Les idoles des années 60"

( published in 1988 by Filipacchi) with

biographies of the singers, written by Eric

Vincent and Jean-Marie Périer. It contains

8 pages on Françoise, 5 color pictures and

2 black & white pictures.

On this famous group photo, Françoise

Hardy is in the third row on the right,

behind Richard Anthony and between

Antoine and Benjamin. The photo is taken

the 12th avril 1966 and published in june

'66 as the central poster of number 47 of

the magazine. ( 4th anniversary).

The photobooks "Mes années 60"

( published May
1998)
and the book

" Mes années 60 L'intégrale" ( published

June
2002
) by Jean-Marie Périer

have also this photo on the cover.
Catalogue, 58 pages, of the auction

on Friday 25th may
2006

by Camard & Associés

Drouot Richelieu - Salle 2

9, Rue Drouot 75009 PARIS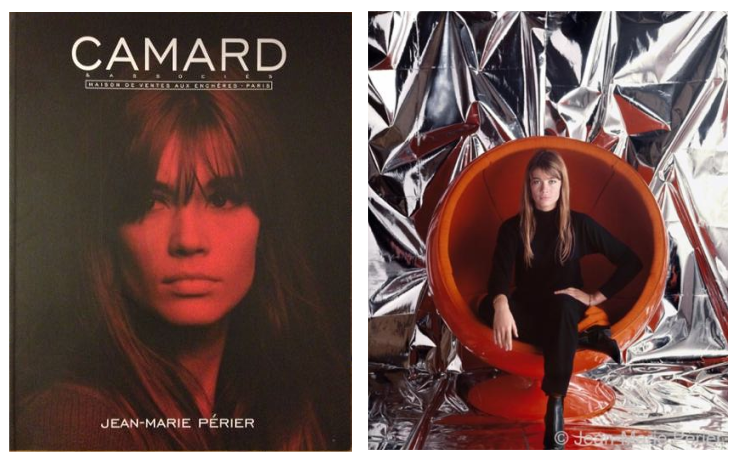 Exposition Françoise Hardy

Galerie Photo 12

14, rue des Jardins Saint-Paul

75003 Paris

from 26 th october to 3rd december
2011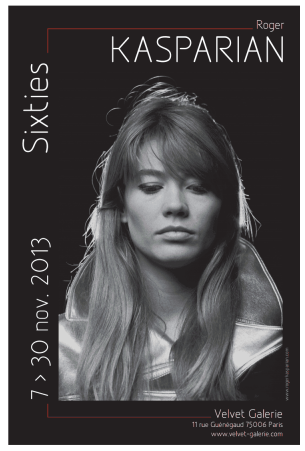 Roger Kasparian exposes in Paris at

the Velvet Galerie 11 rue Guénégaud

75006 Paris

from 7 th november to 4 th december
2013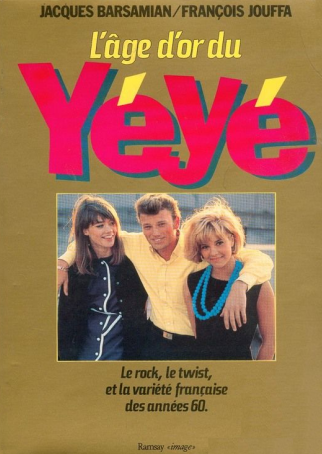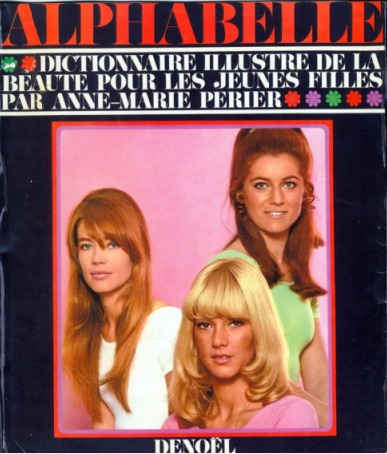 Alphabelle

Beauty tips by Anne-Marie Périer

Photos by André Berg

Published by Denoël
1968

157 pages , 5 black and white photos of Françoise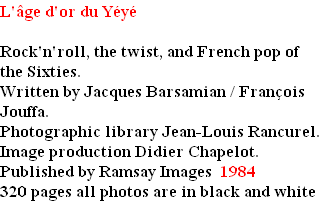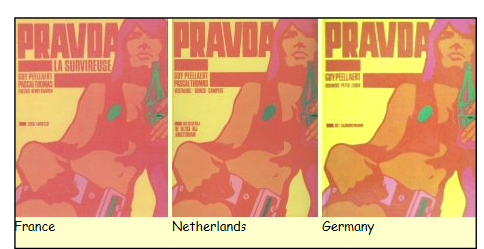 A comic strip book in which the heroine was inspired by, and bears a strong resemblence to

Françoise Hardy.

The original French version, Pravda la Survireuse, was drawn by Guy Peellaert and written

by Guy Peellaert and Pascal Thomas. (
1968
) Published by Eric Losfeld.

Translated into Dutch by Remco Campert, a famous Dutch author, a version was published in

the Netherlands as Pravda. (1968) Published by De Bezige Bij (Amsterdam).

Also published in Germany as Pravda. (1968) Published by Schünemann.

I (E.D.)'ve been contacted in 2011 by Orson Peellaert, the son of Guy, who asked me if Françoise

would be willing to particpate in the american reedition of Pravda by answering some questions

of the journalist who wrote the preface. Françoise answered me she has never read the book and

so has nothing meaningful to say about it.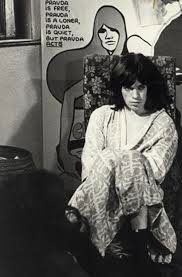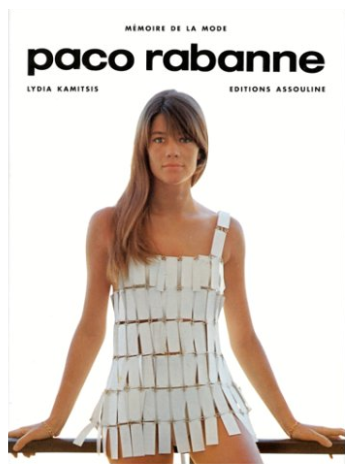 Mémoire de la mode Paco Rabanne

Written by Lydia Kamitsis.

80 pages about the unusual fashion creations

of Paco Rabanne. Most of the book is of

photographs of the creations, and includes

one other similar picture of Françoise

wearing this bathing costume, made from

Rhodoid.

1998
Published by Assouline.
EASY The Lexicon of Lounge

Written by Dylan Jones

Published by Pavilion in
1996

4 pages on Françoise

On the cover Françoise with Scott Walker,

Dionne Warwick and Burt Bacharach.

2 photos ( 1 color of the album Maid in Paris

and 1 black & white) and a text by Malcolm

Mc Laren on Paris.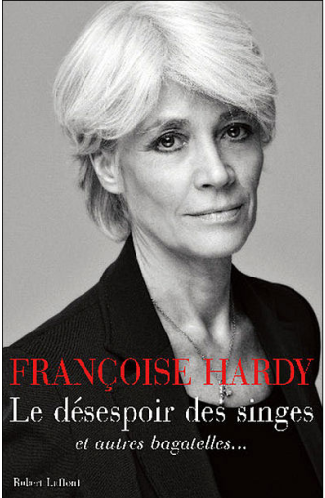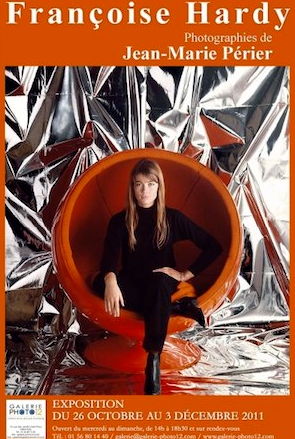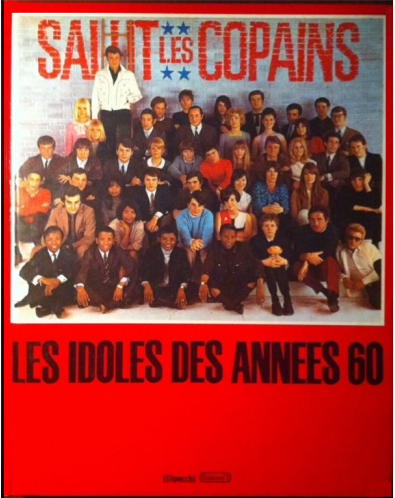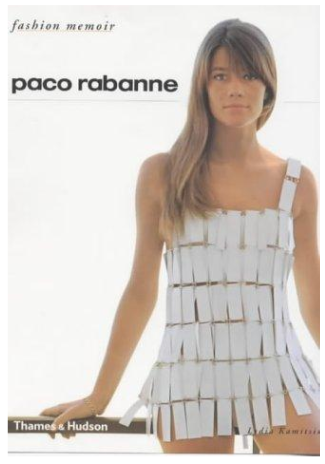 Fashion memoir Paco Rabanne

English edition

September 1999

Published by Thames & Hudson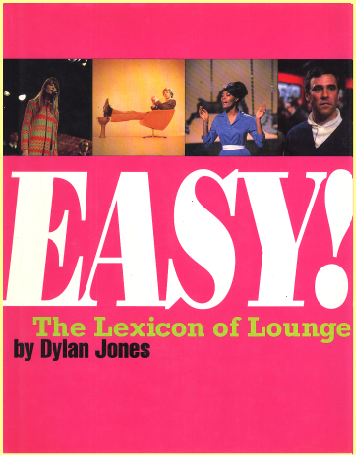 Memorie della moda

Italian edition

5 October 1999

Published by Octavo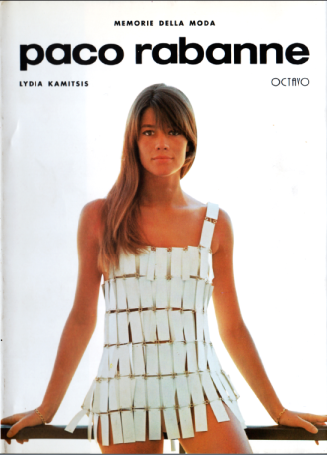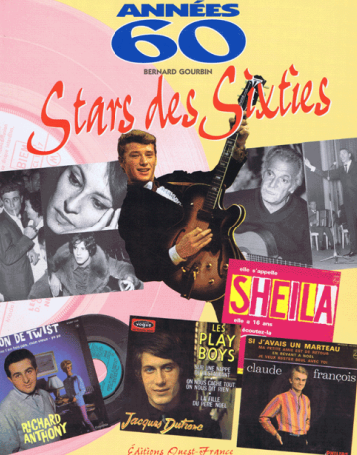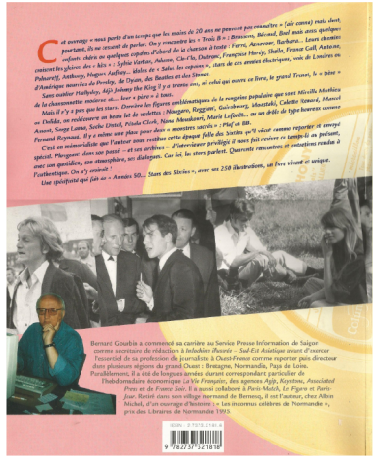 Annees 60 stars des sixties

Written by Bernard Gourbin

Published by Ouest-France

October 1997

Françoise is on the back cover

with Jacques Dutronc

( garden party of the singer Régine)

6 pages on Hardy & Dutronc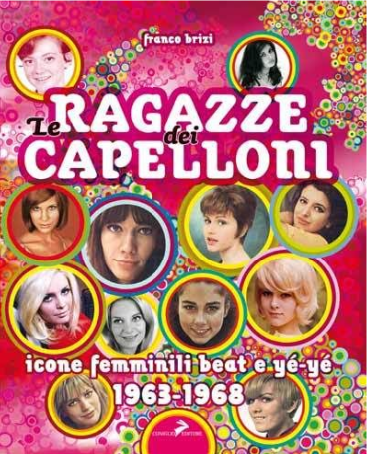 Le ragazze dei capelloni.

Icone femminili beat e yé-yé 1963-1968

Written by Franco Brizi

Published by Coniglio Editore,
2008

282 pages. There are 11 pages on Françoise

( including her italian discography) with

articles taken from magazines such as

Ciao Amici, Giovani, Big,... many color

photos. Great stuff !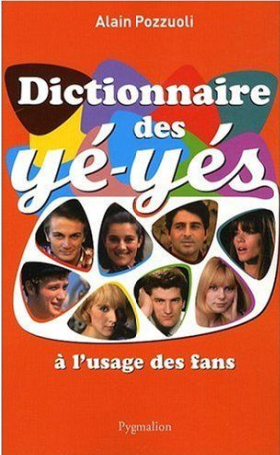 Dictionnaire des ye-yes a l'usage des fans

Written byAlain Pozzuoli

575 pages

Published by Pygmalion
17 february 2009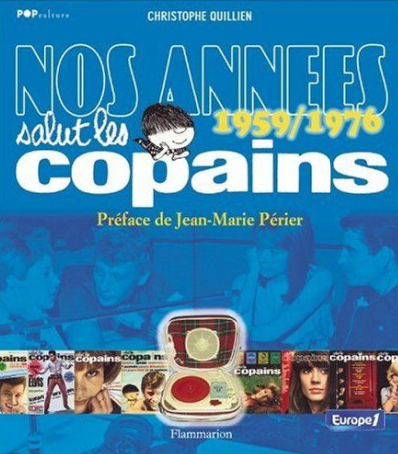 Nos années Salut les Copains 1959/1976

Written by Christophe Quillien

Preface by Jean-Marie Périer

Published by Flammarion

14 october
2009

159 pages.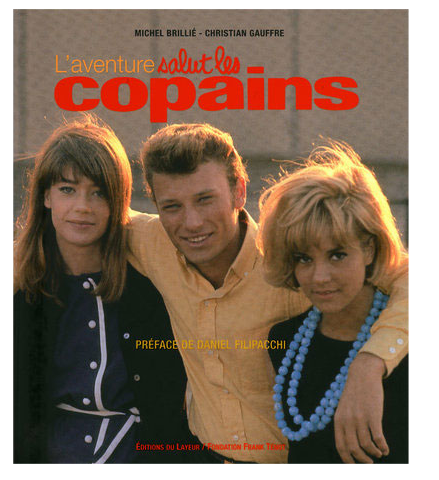 L'aventure Salut les Copains

Written by Michel Brillié/Christian Gauffre,

Preface by Daniel Filipacchi,

Published by Le Layeur/Fondation Frank Ténot

26 october
2009.

287 pages ( photos of Françoise on only 8 pages )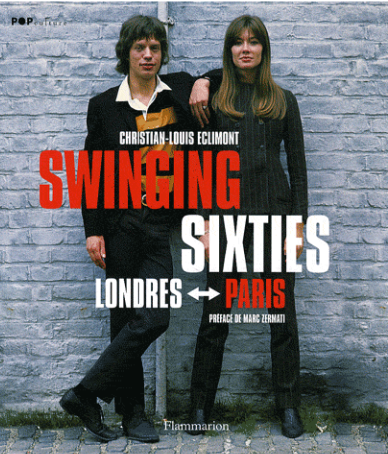 Swinging Sixties

Londres Paris

Written by Christian-Louis Eclimont

Published by Flammarion, 17 december
2009
.

239 pages but only 1 page on Françoise, illustraded

by the photo of 2 record sleeves.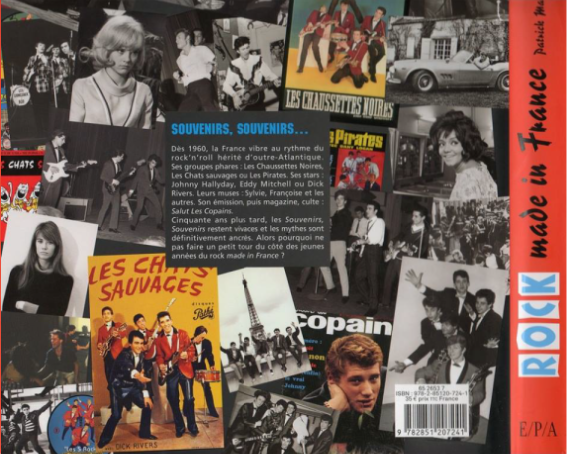 ROCK made in France

Written by Patrick Mahé

Photos by Jean-Louis Rancurel

Published by du Chêne
3 November 2010
Françoise on the back cover

Rock in France from 1960 till the end of the seventies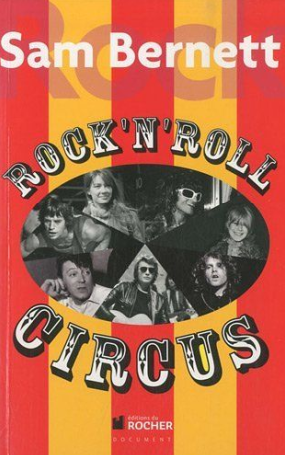 Rock'n'roll Circus

Written by Sam Bernett

Published by Rocher, 7 october
2010
The fabulous history of Rock and Roll

Circus, Saint-Germain-des-Prés Club.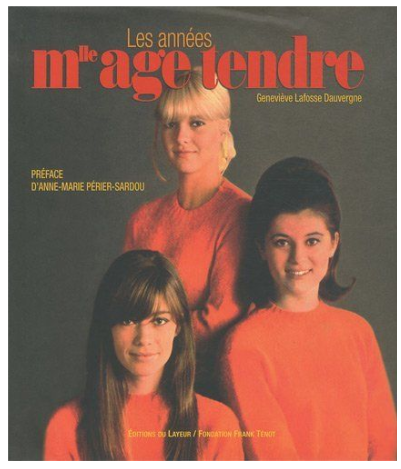 Les années Mlle age tendre

Written by Geneviève Lafosse Dauvergne

Preface by Anne-Marie Périer-Sardou

Published by Le Layeur/Fondation Frank Ténot

21 october
2010

287 pages, 16 photos of Françoise.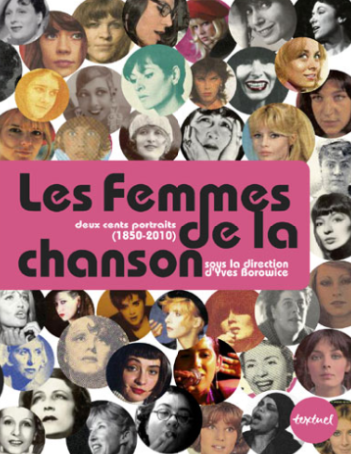 Les femmes de la chanson

Deux cents portraits (1850-2010)

Written by Yves Borowice

Published by Textuel

23 october
2010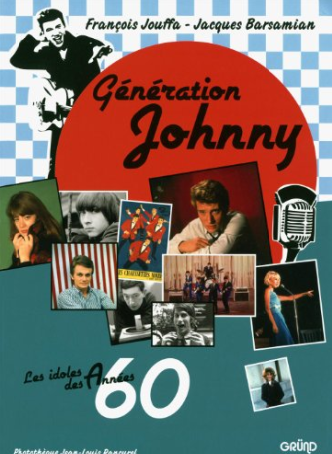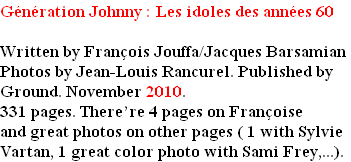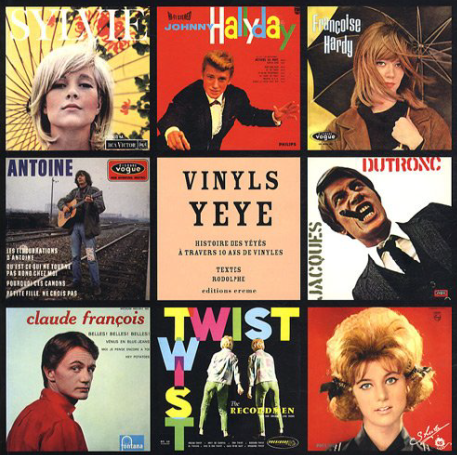 Vinyls Yeye

L'histoire des yéyés à travers 10 ans de vinyles

Written by Rodolphe

Published by Ereme 26 october
2008

192 pages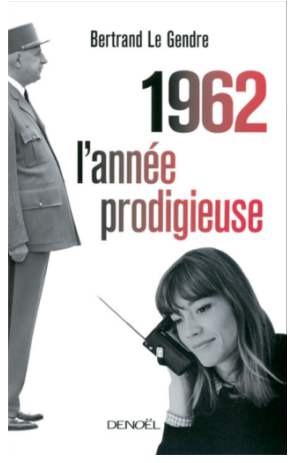 L'année prodigieuse 1962

Written by Bertrand Le Gendre

Published by Denoël., 12 january
2012

279 pages

1 bl. & wh.photo of Françoise with

Daniel Filipacchi.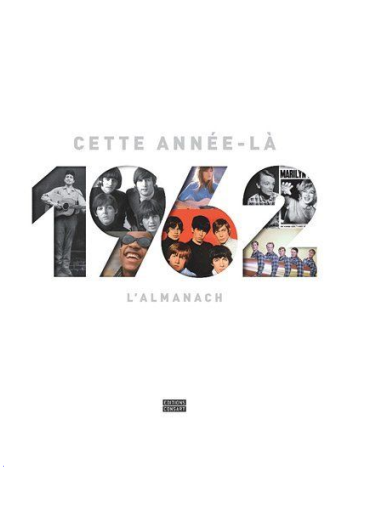 Salut les copains

Written by Jouin Gilbert

Published by Ipanema

15/11/
2012,
80 pages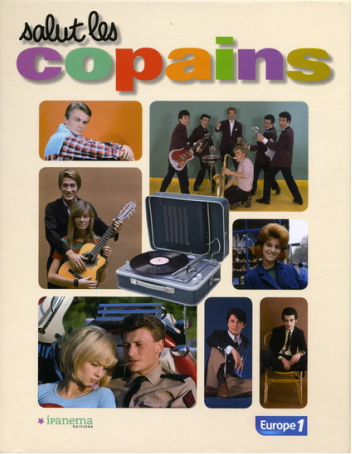 Le Grand Livre de la Vierge

By Beatrice Guénin (birth sign Virgo) and

Francoise Hardy (Virgo ascendant).

One of a collection - Les grands livres du Zodiaque

directed by Joanne Esner.

Françoise wrote this book in collaboration with

Béatrice Guénin. They shared the chapters and the

subjects. They both met great names. Françoise, for

her part, met Jean-Louis Barrault, Félicien

Marceau, Pauline Réage and Claude Nougaro.

Note that this series was such a success, that the

books are constantly republished with slightly

different covers. "Le Grand livre de la Vierge", is

still available in bookstores, such as FNAC,

Amazon etc. ( Warren Gilbert ).

(
July 1979)
Published by Editions TCHOU
Les signes du destin

From December 22, 1980,Françoise presented a programme "Les signes du destin", in

company with actor Benoît Allemane. The programme went out Monday to Friday, from

15:30 to 16:00 on Radio Monte-Carlo. Allemane told the listeners of the life of a famous

character, whose life coincided, as far as possible, with the date of the programme.

Françoise intervened and made an astrological portrait of the character in question, and

told how the planets had contributed or interfered in the destiny of this character.

This series of books was derived from the programme. The first two published works were:

Capricorne (Capricorn), in her honour, with a summary of the life of Françoise and her

astrological portrait, and Verseau (Aquarius).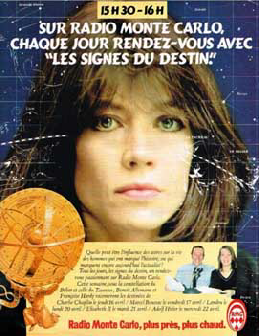 Then appearing successively, in pairs, Poisson and Bélier
Taureau and Gémeaux , Cancer and Lion , Vierge
and Balance, Scorpion and Sagittaire . Note that the
photograph of Françoise published on the first two works,
Capricorne and Verseau is different from that published
on the other 10.

Michel Chabot directed the series of books and the
programme. "Éditions du Rocher/RMC" published the
books from June 1981 until February 1982.

Texts et astrlogical comments by Jean-Pierre Nicola who
defends the astrology conditionalist.

Subsequently, "Éditions Marabout" republished the full
series in a far more modest uniform blue format.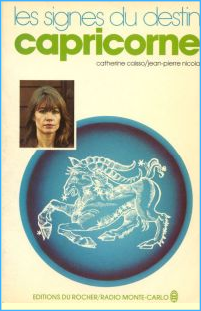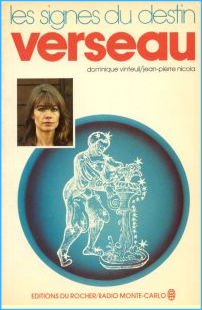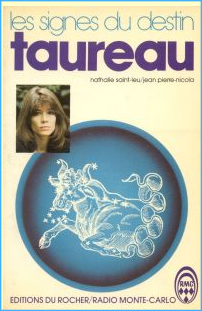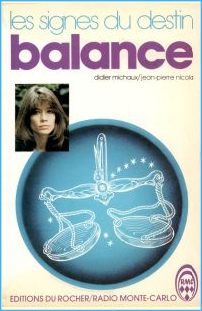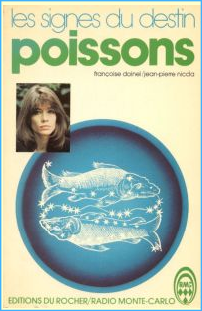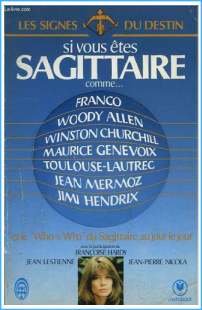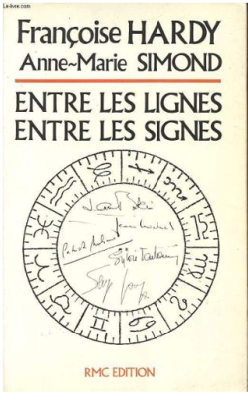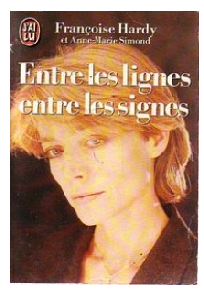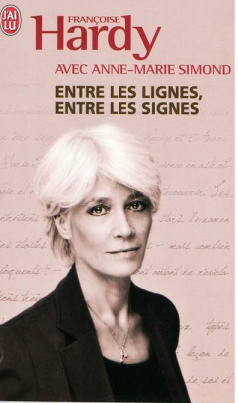 In 1982, the radio programme, "Les signes du destin" was replaced by "Entre les lignes,
entre les Signes", still on Radio Monte-Carlo. ( Warren Gilbert ).

Entre les Lignes, Entre les Signes

Written by Françoise Hardy (Astrology) and Anne-Marie Simond (Graphology).

Analysis of the hand-writing and star signs of 22 people in the public eye in France, including
Serge Gainsbourg, Sylvie Vartan, Jean-Michel Jarre, Jane Birkin.

Paperback, 135mm X 220mm, 362 pages, no photos.

Published by Éditions de Radio Monte Carlo.

Published by RMC

1/01/
1986
Published by "J'ai lu "

01/01/
1988

480 pages
Published by "J'ai lu "

17/08/
2009

475 pages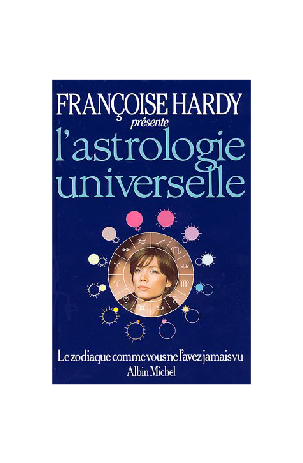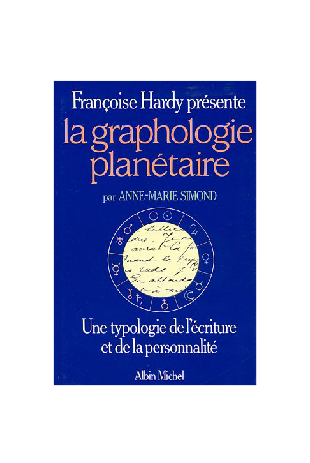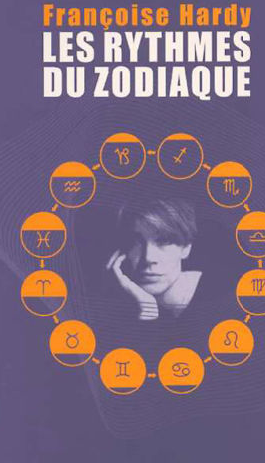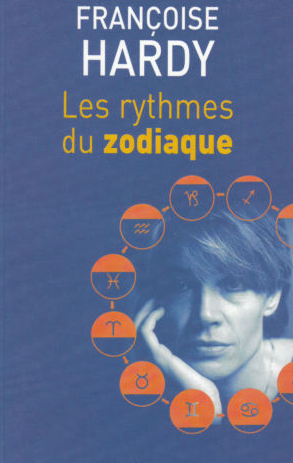 L'astrologie universelle

Presented by Françoise Hardy.

591 pages.

(
1990
) Published by Albin Michel
La graphologie planétaire

Presented by Françoise Hardy

352 pages

Published by Albin Michel

3 January
2001
Les rythmes du zodiaque

Publisher: Le Cherche-midi

7 May
2003
Publisher: France Loisirs

2004
Publisher: Succès du livre

2006
Françoise explains what really are the signs of the Zodiac and how significant occupation of a birth sign promotes,

in an individual, a substantive attitude and specific sensitization.
This is probably an advertising cardboard
Edition : Equateurs

4 March 2015

248 pages.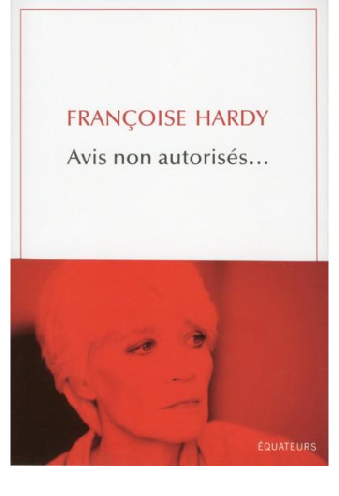 Book " 100 photos for the freedom of the press"

by Jean-Marie Périer published on 24th june 2015 by

Reporters sans frontières. Preface by Patrick Modiano.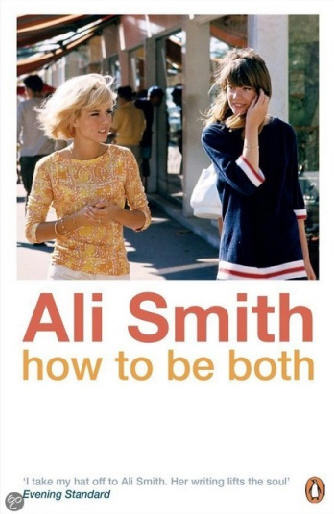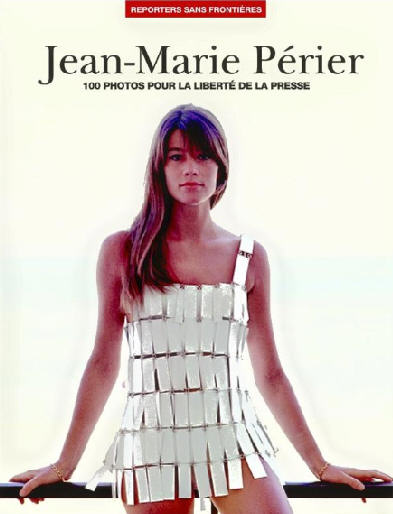 Novel by Scottish author Ali Smith, first
published by Hamish Hamilton in august 2014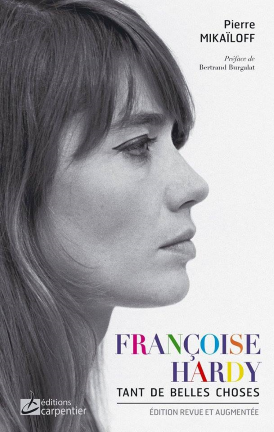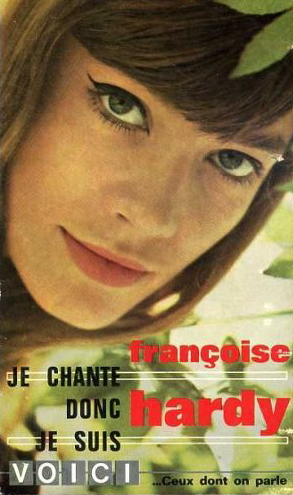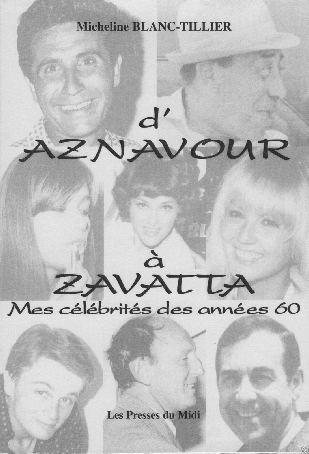 D'Aznavour à Zavatta

Written b Micheline Blanc-Tillier

2001
Editions: Les presses du Midi
4 pages on Françoise Hardy.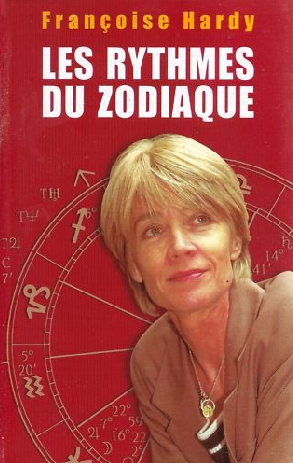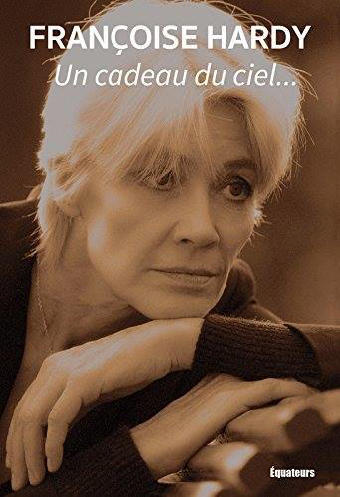 Edition : Equateurs

3 November 2016

186 pages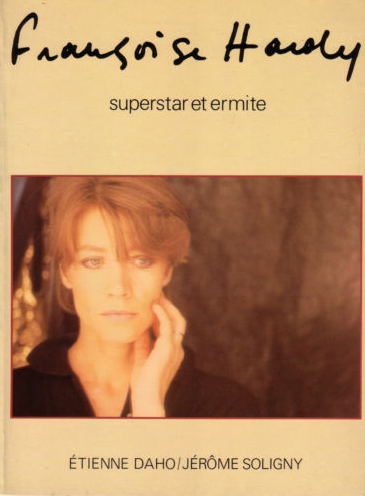 Unauthorised biography by Katia Alibert.

Published by First document

Firts it would be published in june, than

in september but till now ( 7 dec. 2016)

the book isn't available or even released.

Maybe due to the explicit refusal of Françoise.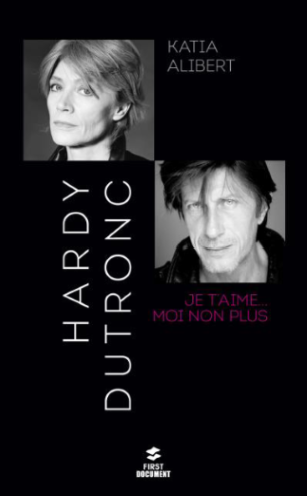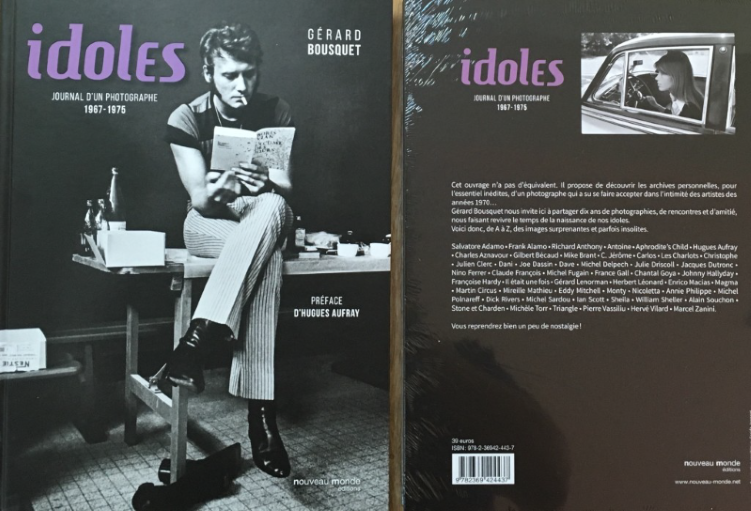 Livre photos « Idoles » by photographer Gerard Bousquet. 223 pages. Preface by Hugues Aufray.

Published on 20th october 2016 by Nouveau Monde.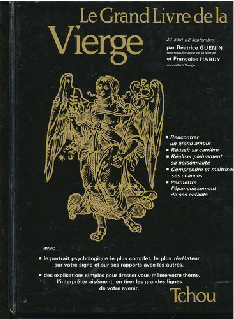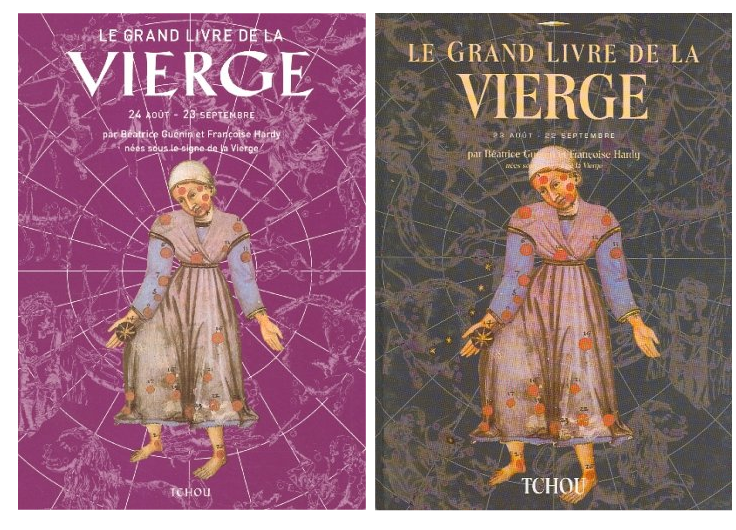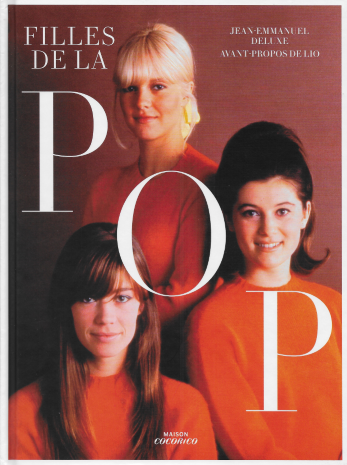 " Filles de la pop" by Jean-Emmanuel Deluxe

published on 26th october 2018 by Maison

Cocorico , 248 pages. Preface by Lio.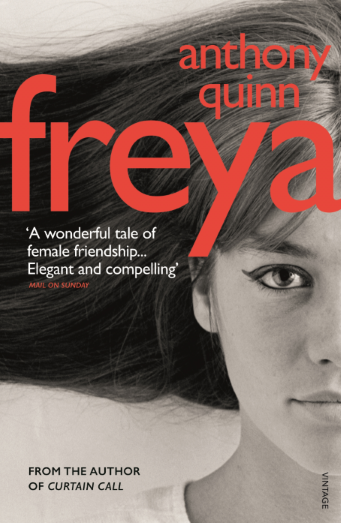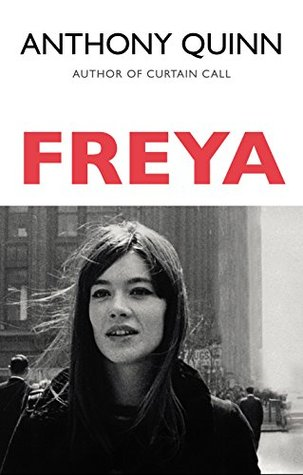 Freya by Antnony Quinn, published in 2016.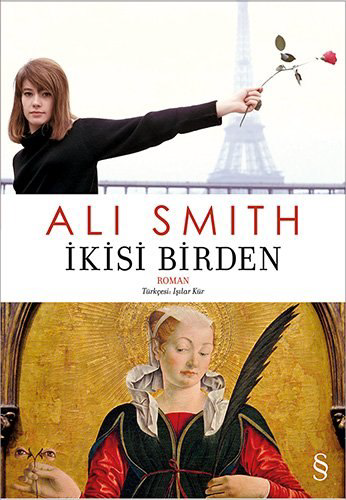 Turkish edition "How to be both"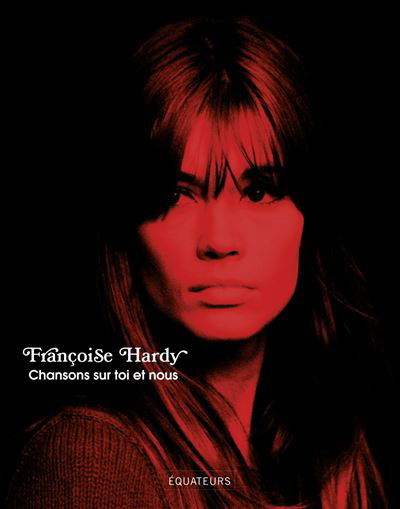 Chansons sur toi et nous

A book by Françoise Hardy on the songs she wrote

herself . Published by Equateurs on the 10th of

march 2021.
Chansons Pour Françoise

Paperback

Gianleo Gadaleta

Published in 2020

Independently Published, United States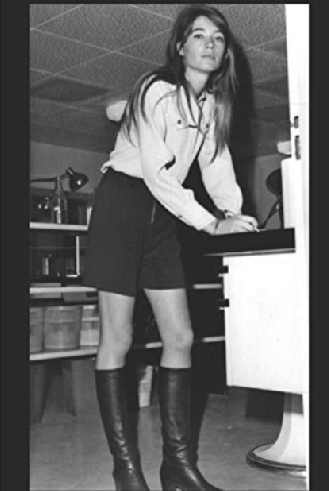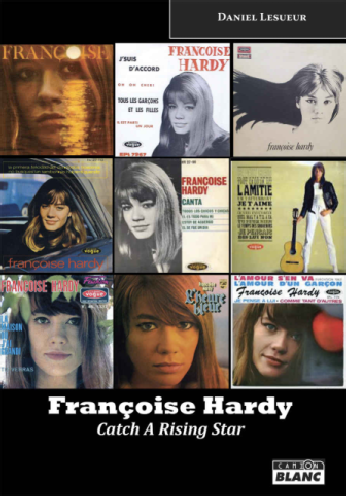 The book is a sort of biography, very largely in

terms of her recorded music output with brief

mentions of her other short careers as actress and model.

Published by Camion Blanc february 2016.

159 pages.
English edition Infodisc 1 november 2008.

Daniel Lesueur and Graham Welch.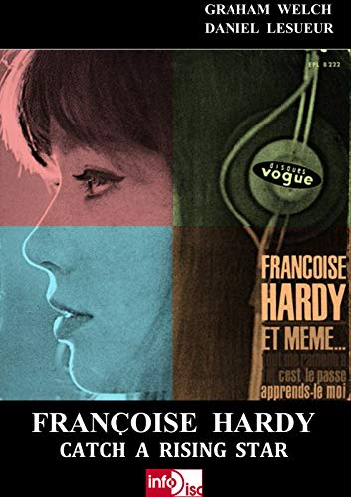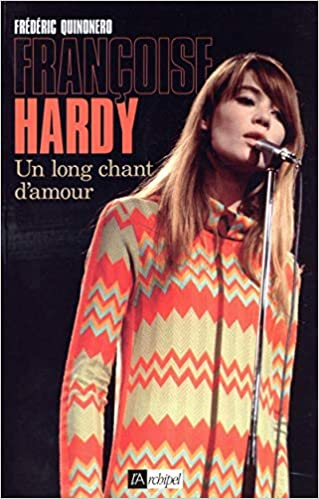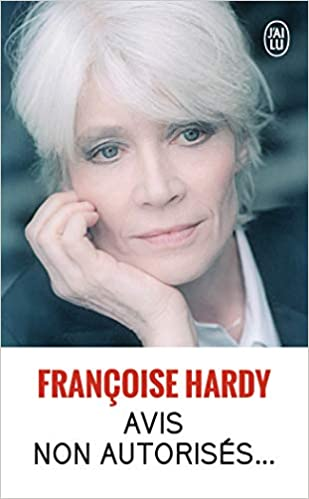 Edition : Equateurs

412 October 2016

Editions "J'ai lu".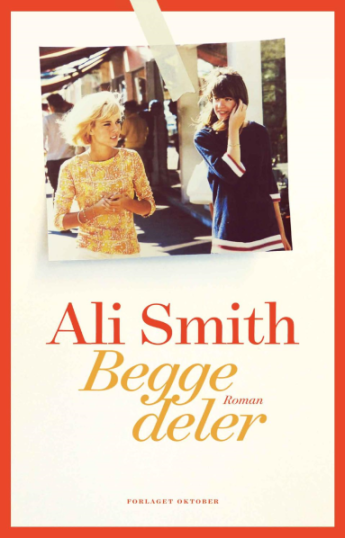 How to be both Norwegian edition
How to be both Greek edition